About Us
Your Memories at Hand
Your Memories at Hand
In my role as "the family historian", early on I developed a passion for preserving and displaying my family's (and later friends') photos, video and film. I started Your Memories At Hand© in 2011 first of all, to help individuals, families and communities utilize their
memories to tell their stories, and secondly, to help folks to get their media in shape: what I call D.O.R.P.S: Digitize, Organize, Restore, Preserve & Share.
At the same time, given that I've been self-employed for over 30 years, I recognized that while families have stories to tell, so do small businesses. Unfortunately, most marketing firms are geared toward big companies with prices that are out of reach for the small business. And while do-it-yourself web services are great for business cards and brochures, there is precious little else that tells your business story in a cost-effective way. So, in 2014, I launched Your Biz Story Told© to help small businesses and individual entrepreneurs showcase their company's products and services in a cost effective way.
Our Services Include
Custom Designed Albums and Wall Art
Video Fusion Slideshows
Professional Photo Organizer and Storyteller
Album, Scrapbook & Memoir Restoration
Family Stories
Veteran and Senior Stories
Business Stories
And so much more!
Whether you're an individual, family, community group or small business, you have a story to tell.
And We Love Uncovering Your Memories & Telling Your Stories!
Mollie Wasserman
Chief Memory Officer | Media Storyteller & Organizer
A little about my background: I spent 15+ years in real estate as a practitioner, broker and team manager culminating with the founding of  the Accredited Consultant in Real Estate® (ACRE) Course and Coaching program, an innovative training program for real estate professionals that focused on providing services and getting paid from a consultative model. I'm the author of two real estate books and a co-author of a third.
On a personal note, I'm truly multi-geographic, having been born in Florida (of Boston-bred parents) and raised in Texas. I attended school in Florida, Pennsylvania, and Mississippi before coming to the Boston area in 1979. I hold a Bachelor of Arts in Mass Communications from the University of Southern Mississippi and a Master of Business Administration with a concentration in marketing from Northeastern University in Boston.
I live with my husband Steve in Framingham, MA. We have two sons, Jeff and Dan, daughter-in-law Anna, granddaughter April, and a Cavalier King Charles Spaniel named Brewster.
A Different Dimension
Mollie designed and produced a beautiful wedding album for us that we were quite pleased with. Not only did it include the pictures we selected, but she used larger pictures as page backdrops which really added a nice dimension. I also liked the whole process of how we could select, preview, and edit our choices in such an easy and quick way. Mollie was very professional from start to finish and gave us a terrific album we will enjoy for years to come. Thanks Mollie!!

Lisa S.
Keeping Mom in our Hearts and Minds
What a beautiful album you created in memory of my Mom's 20th Anniversary! Words cannot express to you how special it was to see the many pictures and read all the stories my Dad shared, as well as the personal letters from friends and family. It was great to be reminded how my Mom touched so many lives! Plus, I really LOVED the special video montage you created, with all the photos and video of my Mom and our family! It was amazing how you were able to insert movie clips and I want you to know that it was the first time I had seen that video of my Mom and Dad's wedding!!! You have created an amazing treasure for me and my siblings and I am so grateful. Thank you for helping keep my Mom in our hearts and minds! Thank you! Thank you!

Deborah W
Loved It!
Mollie recently made me an amazing photo book! I sent her all the photos I took at my nephews graduation through Dropbox and she took care of the rest! When I received the book, I couldn't have been happier! The way she put everything together was amazing. She even kept him in color, and made the rest of the kids black and white so he stood out in the photos!!! I highly recommend you have Mollie put your memories in a photo book! She did a fantastic job! Thank you Mollie!!!

Keri C.
She's a Wizard
Mollie is a photoshop wizard.  She fixed my photos exactly as I requested, they look perfect!  Fabulous client service too!"
Karen Herman
Got Photos, Video, Film?
We've Got Solutions for
ALL Your Memories!
Digitize | Organize
Restore | Preserve | Share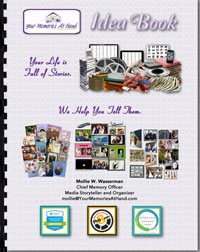 The Idea Book:
Unique, Personalized
Creations Using YOUR
Photos, Video & Film
Much more than a
catalog!
It's chock full of
inspiration for telling
YOUR story.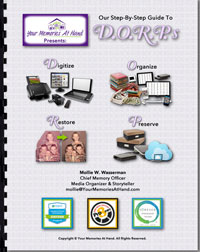 Need Help Getting
Organized?
Get all the guidance
you need to Digitize,
Organize, Restore &
Preserve YOUR
memories.
Perfect for the Do-It-
Yourselfer.