The Numbers are Staggering:
Americans now take more than 10 billion photos every month, bolstered by the ever-present smartphone.
However, the more digital our world becomes, the more precious a physical photo album becomes. If you're looking for a home for the masses of photos on all your various devices, our custom-designed albums will get you the best bang for your buck. Whether a traditional look or a scrapbook design, we can create gorgeous albums that won't send you to the poorhouse.
Of course, there IS a cheaper alternative and that's to do it yourself. There's a myriad of web sites you can use to create your own albums and if you have the time and talent and are happy with the quality, then we encourage you to go for it.
But, if you don't have the time or talent, (which is why most photos are on siting on hard drives and various devices!) then you definitely want to check out our custom-designed albums.
Note: One thing that we strongly discourage is storing your print photos in traditional magnetic (self-adhesive) albums. Sorry to tell you that these magnetic albums, that have been popular for years and are still sold in craft stores, are not a safe home for your photos. The paper used in these albums is acid-based and is combined with an adhesive and type of plastic that destroys printed media. A colleague of mine calls it the chemical sandwich.
On the other hand the advantages of our digitally designed albums are:
They last.
Because we include a digital "flip-through" version online at no extra charge, they can be viewed by whomever you wish, wherever they are.
Most importantly, digital albums can be backed up!
Flip through client albums in our Photo Album Gallery &
For more info on creating albums for YOUR masses of photos,
Got Photos, Video, Film?
We've Got Solutions for
ALL Your Memories!
Digitize | Organize
Restore | Preserve | Share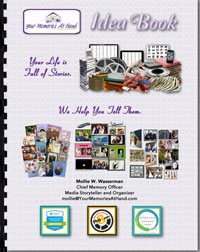 The Idea Book:
Unique, Personalized
Creations Using YOUR
Photos, Video & Film
Much more than a
catalog!
It's chock full of
inspiration for telling
YOUR story.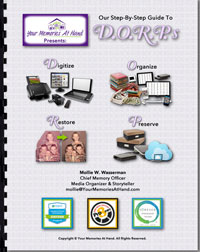 Need Help Getting
Organized?
Get all the guidance
you need to Digitize,
Organize, Restore &
Preserve YOUR
memories.
Perfect for the Do-It-
Yourselfer.