Custom Designed (or Recreated) Photo Albums
Whether you need an album for a special occasion, a place for your piles of pics, a family heirloom re-created, or a remembrance of your keepsakes, our custom-designed albums will get you the absolute best value for your dollar.
For more details, click any of the photos below.
Got Photos, Video, Film?
We've Got Solutions for
ALL Your Memories!
Digitize | Organize
Restore | Preserve | Share
Contact Us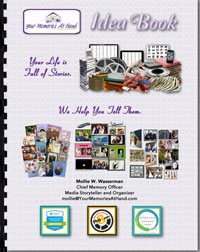 The Idea Book:
Unique, Personalized
Creations Using YOUR
Photos, Video & Film
Much more than a
catalog!
It's chock full of
inspiration for telling
YOUR story.
CHECK IT OUT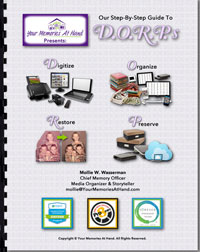 Need Help Getting
Organized?
Get all the guidance
you need to Digitize,
Organize, Restore &
Preserve YOUR
memories.
Perfect for the Do-It-
Yourselfer.
CHECK IT OUT