Business Video Fusion Slideshows
Products & Services That Move: Video Fusion Slideshows
---
If you're an entrepreneur or small business owner, you're on the move. And your story is best told when it's on the move too!
If you demonstrate your product or service at sales meetings, chances are that you (and your competition) does a traditional Power Point presentation. But let's face it, no matter how much you spice it up, it can get boring.
But what if you were to present that same information, coupled with your photos and video of your work, set to upbeat music and narration. NOW, you're telling your story!
Or maybe you would love to showcase your various products and services in action on your web site, or on a trade show floor. Most video production firms that offer these services are geared toward large businesses and can cost in the thousands for a 60 second video – far beyond the budget of most small business people.
We are dedicated to telling the small business story. Using your images, video, music and/or voice over, we create shows that will wow your audience…at a price that the small business can afford.
Your Business Has a Story to Tell. We Help You Tell It…Cost effectively!
For more info on moving YOUR products & services,
Need Help With Your Photos to Digitize, Organize, Restore, Preserve and Share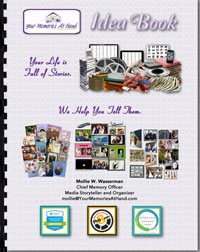 The Idea Book:
Unique, Personalized
Creations Using YOUR
Photos, Video & Film
Much more than a
catalog!
It's chock full of
inspiration for telling
YOUR story.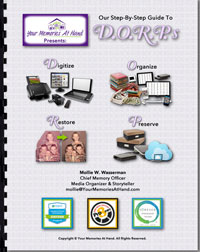 Need Help Getting
Organized?
Get all the guidance
you need to Digitize,
Organize, Restore &
Preserve YOUR
memories.
Perfect for the Do-It-
Yourselfer.