Business Products and Services
For the Small Business or Entrepreneur
If you own a small business or are an individual entrepreneur, you have a story to tell. Unfortunately, most marketing firms are geared toward big companies with prices that are out of reach for the small business. And while do-it-yourself web services are great for business cards and brochures, there is precious little else that tells your business story in a cost-effective way.
We understand because we run a small business too! We started Your Biz Story Told© to cater to the marketing needs of the small business.
"The best way to predict the future is to create it."  – Peter Drucker
For more details, click an Image below.
Got Photos, Video, Film?
We've Got Solutions for
ALL Your Memories!
Digitize | Organize
Restore | Preserve | Share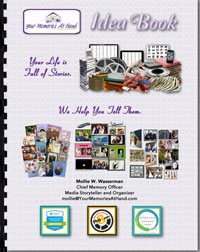 The Idea Book:
Unique, Personalized
Creations Using YOUR
Photos, Video & Film
Much more than a
catalog!
It's chock full of
inspiration for telling
YOUR story.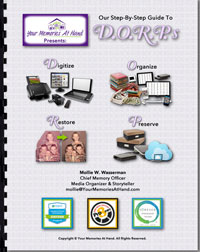 Need Help Getting
Organized?
Get all the guidance
you need to Digitize,
Organize, Restore &
Preserve YOUR
memories.
Perfect for the Do-It-
Yourselfer.