Custom Catalogs and Portfolios
If you meet with customers, clients or prospects, imagine being able to leave something behind showcasing your best work for under $20 each* while blowing your competition out of the water!
---
We believe that every business deserves an awesome & affordable book that tells it's story. This book line is great for Product/Service Catalogs or Portfolios. Combining leading web technology and print-on-demand systems, this technology removes the usual labor and cost hurdles to producing professional, creative books for a fraction of the cost. And you can get an electronic version for your web site or to email free with your order.
Because there are no upfront costs, minimum orders, deadlines or risk, you can get a professionally designed catalog or portfolio at an affordable price whether you need 1 or 1000. Some examples of product or service providers that could benefit from this type of catalog/portfolio:
Product Vendors
Contractors
Photographers
Wedding/Event Planners
Interior Designers
Professional Organizers
Realtors®
Other Service Vendors
Any business that has a story to tell!
If a brochure doesn't give you enough space to tell your story, then check out this book line – it's easy and inexpensive to produce a personalized catalog or portfolio – you can order as few or as many as you want and have your books within three weeks.
*Soft Cover – 20 Pages
For more info on creating YOUR catalog or portfolio,
Got Photos, Video, Film?
We've Got Solutions for
ALL Your Memories!
Digitize | Organize
Restore | Preserve | Share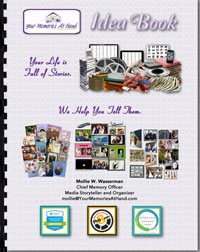 The Idea Book:
Unique, Personalized
Creations Using YOUR
Photos, Video & Film
Much more than a
catalog!
It's chock full of
inspiration for telling
YOUR story.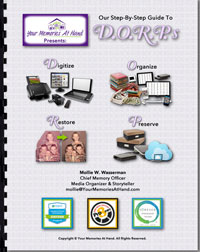 Need Help Getting
Organized?
Get all the guidance
you need to Digitize,
Organize, Restore &
Preserve YOUR
memories.
Perfect for the Do-It-
Yourselfer.