Resources:
DIGITIZE
Resources for the ambitious DIY photo organizer.
Digitize Your Memories
Whether or not you ultimately choose to keep your physical photos, video, film or slides, it's vital that any print media that is important to you be digitized for three important reasons
Digitized media stands up best over time.
Digitized media can be backed up. It's a sad fact that we spend thousands of dollars every year insuring our homes but do nothing to insure the one thing that can never be replaced – our memories!The twin enemies are time and the environment. Plus, even if properly stored, it just takes one house fire, flood, or other natural disaster to lose it all.
The best creations for telling your story must start with digitized media.
.
Whether it's photos, albums, negatives, film, video tape, knicknacks or your child's artwork,
we can get it transferred to digital and get it done RIGHT.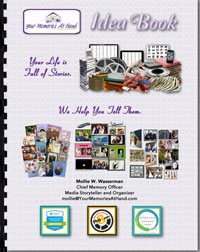 The Idea Book:
Unique, Personalized
Creations Using YOUR
Photos, Video & Film
Much more than a
catalog!
It's chock full of
inspiration for telling
YOUR story.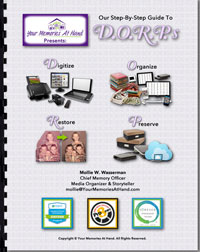 Need Help Getting
Organized?
Get all the guidance
you need to Digitize,
Organize, Restore &
Preserve YOUR
memories.
Perfect for the Do-It-
Yourselfer.
Got Photos, Video, Film?
We've Got Solutions for
ALL Your Memories!
Digitize | Organize
Restore | Preserve | Share