What in the world is a Video Fusion Show?
Isn't it just a slideshow? No way! Our Fusion Videos combine your photos and video with music and/or narration, to tell your story in the most touching way you can imagine. A Fusion Video provides a wonderful tribute to enjoy when family and friends are gathered and also serves as a special keepsake for years to come.
Check out sample clips of our Client Fusion Videos by clicking any of the icons below.
Got Photos, Video, Film?
We've Got Solutions for
ALL Your Memories!
Digitize | Organize
Restore | Preserve | Share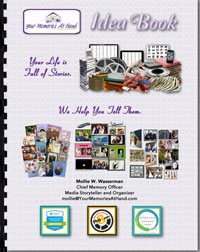 The Idea Book:
Unique, Personalized
Creations Using YOUR
Photos, Video & Film
Much more than a
catalog!
It's chock full of
inspiration for telling
YOUR story.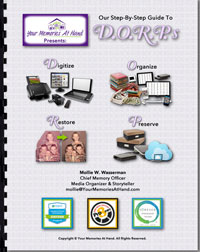 Need Help Getting
Organized?
Get all the guidance
you need to Digitize,
Organize, Restore &
Preserve YOUR
memories.
Perfect for the Do-It-
Yourselfer.