How-To and Informational Videos
Find inspiration plus detailed "How-Tos" for utilizing your photos, video and film to tell your stories.
Our Memories Are Like a Carousel
How Valuable Are Your Memories
The ABCs of Print Photo Organization
The Straight Scoop on Photo Scanning
The ABC's of Digital Photo Organization
What is a Fusion Video Show
Restoring and Preserving Keepsake Albums
Declutter With Collage Prints
Declutter With Keepsake Albums and Prints
Not Your Mother's Photo Albums
All About Today's Wall Art
Got Photos, Video, Film?
We've Got Solutions for
ALL Your Memories!
Digitize | Organize
Restore | Preserve | Share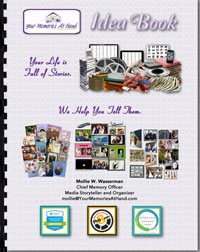 The Idea Book:
Unique, Personalized
Creations Using YOUR
Photos, Video & Film
Much more than a
catalog!
It's chock full of
inspiration for telling
YOUR story.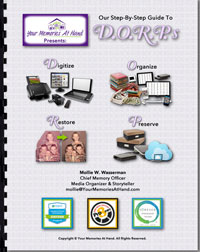 Need Help Getting
Organized?
Get all the guidance
you need to Digitize,
Organize, Restore &
Preserve YOUR
memories.
Perfect for the Do-It-
Yourselfer.