If you're out of room, you don't have to part with special keepsakes – at least not the memories! Three-dimensional collections can be preserved and enjoyed in keepsake albums.
To take a look, click the title or cover. Included in ALL of our album projects is an e-book that can be flipped through by others that are far away.
For more info on albums that showcase your keepsakes,
Got Photos, Video, Film?
We've Got Solutions for
ALL Your Memories!
Digitize | Organize
Restore | Preserve | Share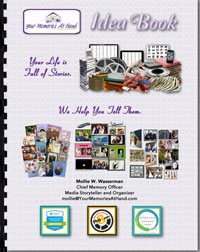 The Idea Book:
Unique, Personalized
Creations Using YOUR
Photos, Video & Film
Much more than a
catalog!
It's chock full of
inspiration for telling
YOUR story.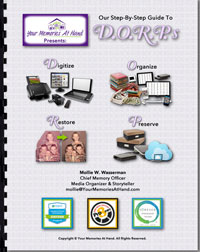 Need Help Getting
Organized?
Get all the guidance
you need to Digitize,
Organize, Restore &
Preserve YOUR
memories.
Perfect for the Do-It-
Yourselfer.