Keepsake Albums and Prints
With Added Years Comes Added Stuff and it Just Multiplies as We Get Older.
Things handed down, things we bought, things given to us, travel mementos. We call them different things: keepsakes, knick-knacks or memorabilia. In my house, we called them "chatkes".
It doesn't always feel like clutter, but the truth is, we may have more than we have space for, especially as we downsize.
If you're out of room, you don't have to part with special keepsakes – at least not the memories! Three-dimensional collections can be preserved and enjoyed in keepsake albums. How do we do it?
First, we photograph each keepsake using our Shotbox: a compact photo lighting studio.
Next, we edit each object, adding
 a transparency to make your keepsakes pop off the page.
Lastly, we design your album or print.
SO, whether you're downsizing, short on space or just want to have a less cluttered lifestyle, Keepsake Albums let you hold on to memories without the clutter. And keep in mind that our Shotbox studio folds up for easy transport so we can come to you.
Flip through client albums in our Photo Album Gallery &
To get rid of the clutter without losing the memories,
Got Photos, Video, Film?
We've Got Solutions for
ALL Your Memories!
Digitize | Organize
Restore | Preserve | Share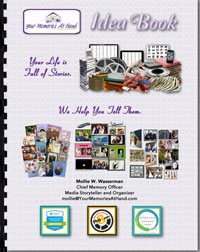 The Idea Book:
Unique, Personalized
Creations Using YOUR
Photos, Video & Film
Much more than a
catalog!
It's chock full of
inspiration for telling
YOUR story.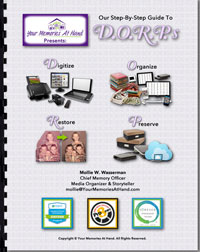 Need Help Getting
Organized?
Get all the guidance
you need to Digitize,
Organize, Restore &
Preserve YOUR
memories.
Perfect for the Do-It-
Yourselfer.