Many families have written family stories that can date back a century or more. These books are very special and often contain far more than just photos. Some memoirs may not even contain photos. Perhaps you'd like to add some photos to make them come alive.
To take a look, click the title or cover. Included in ALL of our album projects is an e-book that can be flipped through by others that are far away.
For more info on albums that bring your loved one's story to life,
Got Photos, Video, Film?
We've Got Solutions for
ALL Your Memories!
Digitize | Organize
Restore | Preserve | Share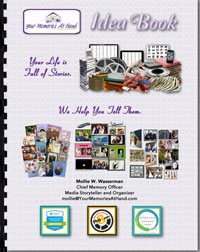 The Idea Book:
Unique, Personalized
Creations Using YOUR
Photos, Video & Film
Much more than a
catalog!
It's chock full of
inspiration for telling
YOUR story.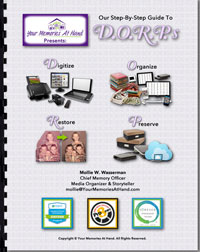 Need Help Getting
Organized?
Get all the guidance
you need to Digitize,
Organize, Restore &
Preserve YOUR
memories.
Perfect for the Do-It-
Yourselfer.