Resources:
ORGANIZE
Resources for the ambitious DIY photo organizer.
Organize Your Photos
There are an estimated 1.7 TRILLION paper photos stored in albums, attics and shoeboxes. Other estimates show that Americans have taken over 550 BILLION non-digital photos.
The numbers of digital photos taken every day is also staggering. A survey of 1,169 regular photo-takers revealed that Americans now take more than 10 billion photos every month. This figure is bolstered by the ever-present smartphone which nearly 60 percent of respondents say is their primary photo-taking device.
You probably have hundreds of digital photos that are scattered on your digital cameras, phones, tablet, thumb drives, memory cards, on social media sites or lost somewhere on your computer. And really now… what good is having all of these photos if you can't find them to share?
You might be thinking that your mountain is so tall, you can never scale it. Or that no one else could possibly have let things go so long and get so out of hand. If so, you would be wrong! We've worked with clients that had massive quantities of printed and digital photos, deteriorating in their basement or clogging up their hard drives.
No matter how tall your mountain is, it CAN be scaled, especially with especially with software resources that we've scoped out.
Whether you're buried in print or digital pics, we can help.
Just click the button and let us know what you need.
Got Photos, Video, Film?
We've Got Solutions for
ALL Your Memories!
Digitize | Organize
Restore | Preserve | Share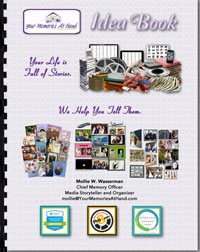 The Idea Book:
Unique, Personalized
Creations Using YOUR
Photos, Video & Film
Much more than a
catalog!
It's chock full of
inspiration for telling
YOUR story.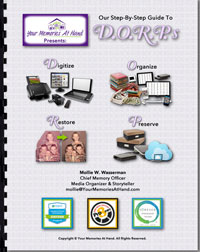 Need Help Getting
Organized?
Get all the guidance
you need to Digitize,
Organize, Restore &
Preserve YOUR
memories.
Perfect for the Do-It-
Yourselfer.