Resources:
Professional Photo Editing &
Photoshop Services
How many times has this happened to you?… You're at a wedding or other special event and take a great picture – a picture that's truly frame worthy. Except…there's other people or things in the background. We can help! Whether you want to remove just some background distractions or transform the photo to look as though it was taken in a studio, we can do it.
Custom Backgrounds for the Custom Folks in Your Life
Sometimes the best pics aren't posed – they just capture someone's smile…their personality… who they are. We can make that special photo even more so with a custom background that reflects their interests or where they were. The possibilities are endless!
Make EVERYONE Look Great in Group Pics
And what about those rare opportunities to take a large group photo? Most photographers, if asked, are happy to take several shots of the same pose in case someone's eyes are closed or someone is hidden. The photographer will then usually pick the best one to send to you but with a large group, you'll still likely have peeps that don't look their best.
We offer a better alternative! When your photographer curates your photos, have him/ her send you ALL takes of the group shots.What we can then do is build a composite photo taking the best shot of each individual person and compile it into one great looking final photo.
Got Photos, Video, Film?
We've Got Solutions for
ALL Your Memories!
Digitize | Organize
Restore | Preserve | Share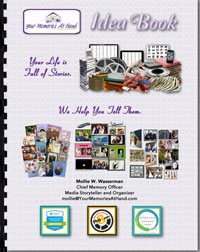 The Idea Book:
Unique, Personalized
Creations Using YOUR
Photos, Video & Film
Much more than a
catalog!
It's chock full of
inspiration for telling
YOUR story.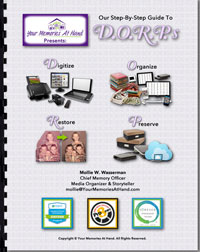 Need Help Getting
Organized?
Get all the guidance
you need to Digitize,
Organize, Restore &
Preserve YOUR
memories.
Perfect for the Do-It-
Yourselfer.