Resources:
RESTORE
Resources for the ambitious DIY photo organizer
Photo Restoration
Most newer scanned photos need just little editing to look great. But, the fact is that older photos are fragile and no matter how careful you are, you probably have a cherished family photo or two that has become victim to water damage, heat, cracking, crinkling or other environmental factors, age or handling.
We can do some pretty extensive restoration but if there's a photo that can't be fixed with our level of expertise, we partner with an incredible restoration service, available only to photographers, printers and other professionals. Their artists combine creativity and imagination with technical skill to do some truly magical things. Even better, everything is done digitally so your physical photo is never used once it's initially scanned.
Not only can they repair your photo, they can make it better than ever.
If you have a priceless photo or photos that are worth a little investment to restore, we can take a look at them and tell you if something can be done (not all damage is fixable), and the cost to restore them.
For more info on our professional Photo Restoration services,
Got Photos, Video, Film?
We've Got Solutions for
ALL Your Memories!
Digitize | Organize
Restore | Preserve | Share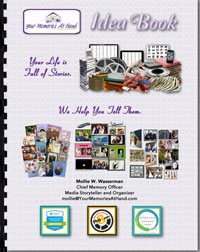 The Idea Book:
Unique, Personalized
Creations Using YOUR
Photos, Video & Film
Much more than a
catalog!
It's chock full of
inspiration for telling
YOUR story.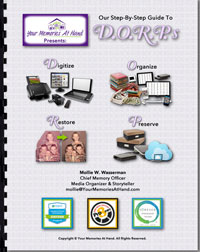 Need Help Getting
Organized?
Get all the guidance
you need to Digitize,
Organize, Restore &
Preserve YOUR
memories.
Perfect for the Do-It-
Yourselfer.