Photo Wall Art Collage Prints
Photo Wall Art Collage Prints are a Beautiful Way to Display lots of Memories without a lot of Space!
When you want to display your best images in their full glory, Clusters and Splits are the way to go. But if you have a lot more images to display than wall space to display them, then you want to check out our custom designed photo wall art collage prints.
Using digital scrapbooking techniques, we can combine any number of images with or without digital embellishments or frames to create one image in a fraction of the space.
First we start with your photo(s). We retouch, crop, color correct and remove dust & scratches. We then design your collage to your liking. Then it's time to choose your print medium:
Gallery Blocks
Aluminum Prints
Canvas Wraps
Thin Wraps
OR even an inexpensive poster which can be framed.
Click any photo for an enlarged view.
Declutter With Collage Prints
from Your Memories at Hand
See samples in our Photo Wall Art Gallery & to showcase
YOUR photos (without a lot of space) using Collage Prints,
Got Photos, Video, Film?
We've Got Solutions for
ALL Your Memories!
Digitize | Organize
Restore | Preserve | Share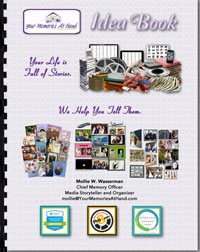 The Idea Book:
Unique, Personalized
Creations Using YOUR
Photos, Video & Film
Much more than a
catalog!
It's chock full of
inspiration for telling
YOUR story.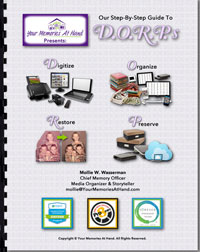 Need Help Getting
Organized?
Get all the guidance
you need to Digitize,
Organize, Restore &
Preserve YOUR
memories.
Perfect for the Do-It-
Yourselfer.