Photo Wall Art Gallery Blocks
Photo Wall Art Gallery Blocks bring together a unique combination of text, color, photos, and 3D construction to create a stunning display!
Single Gallery Blocks
A "Single" Gallery Block is a single professional print laminated over a solid wood constructed box. Single Gallery Blocks are easy to maintain, easy to hang, with no folded corners and perfect manufactured 90° angles. A unique alternative to Canvas Wraps, images can either wrap around the edges, or we can design your own custom border graphics.
Click any photo for an enlarged view.
Floating Gallery Blocks
Floating Gallery Blocks are a series of smaller print blocks constructed together to create a chic, one-of-a-kind piece of wall art. This wall art is manufactured to look like each individual Gallery Block is floating over a large image background. The floating blocks create impact when incorporated in the design of the base to make your photos or text standout. Each individual block and backing can be printed with your own images or text.
Got Photos, Video, Film?
We've Got Solutions for
ALL Your Memories!
Digitize | Organize
Restore | Preserve | Share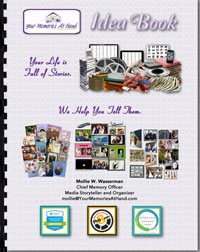 The Idea Book:
Unique, Personalized
Creations Using YOUR
Photos, Video & Film
Much more than a
catalog!
It's chock full of
inspiration for telling
YOUR story.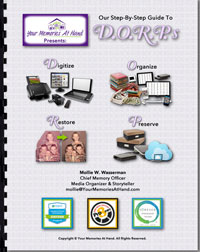 Need Help Getting
Organized?
Get all the guidance
you need to Digitize,
Organize, Restore &
Preserve YOUR
memories.
Perfect for the Do-It-
Yourselfer.