A photo in a frame is nice, but ordinary OR … We can make your photos extraordinary!
I partner with some incredible print labs that combined with my design work result in gorgeous photo wall art unavailable anywhere else. Here in our Wall Art Gallery, you'll find just a sampling of our wall art creations.
Take a look for ideas to tell your story or for a very special gift by clicking any of the icons below.
For more info on showcasing YOUR photos with custom wall art,
Got Photos, Video, Film?
We've Got Solutions for
ALL Your Memories!
Digitize | Organize
Restore | Preserve | Share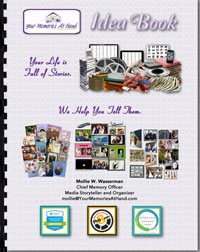 The Idea Book:
Unique, Personalized
Creations Using YOUR
Photos, Video & Film
Much more than a
catalog!
It's chock full of
inspiration for telling
YOUR story.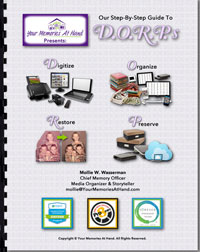 Need Help Getting
Organized?
Get all the guidance
you need to Digitize,
Organize, Restore &
Preserve YOUR
memories.
Perfect for the Do-It-
Yourselfer.