Photo Wall Art Thin Wraps
Photo Wall Art Thin Wraps are Beautifully Finished Float Mount Prints – No Frame Needed!
OK, what is a Thin Wrap? Simply put, it's a print on your choice of Lustre Paper, Metallic Paper or Fine Art Canvas material. The lab then over-laminates the image with a soft satin laminate or a glossy laminate. The resulting product is then wrapped on a board, with or without a foam layer (Softop) in between the print and the board. For a striking effect, there is a spacer applied to the back of the ThinWrap, which allows the image to be hung and appear to float from the wall.
Click any photo for an enlarged view.
Got Photos, Video, Film?
We've Got Solutions for
ALL Your Memories!
Digitize | Organize
Restore | Preserve | Share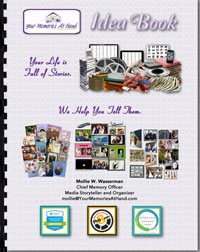 The Idea Book:
Unique, Personalized
Creations Using YOUR
Photos, Video & Film
Much more than a
catalog!
It's chock full of
inspiration for telling
YOUR story.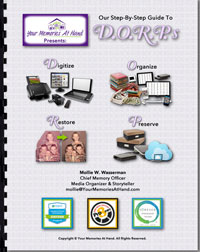 Need Help Getting
Organized?
Get all the guidance
you need to Digitize,
Organize, Restore &
Preserve YOUR
memories.
Perfect for the Do-It-
Yourselfer.