One of the most common ways we display our photos is to put them in a frame and then hang them on the wall. It's nice, but kind of ordinary. OR, we could take those same photos and make them extraordinary! Working with a variety of the top print labs available only to professionals, we can take your favorite photos and design wall art that is stunning. And you can choose the medium that matches your style. Take a closer look by clicking the photos below.
Got Photos, Video, Film?
We've Got Solutions for
ALL Your Memories!
Digitize | Organize
Restore | Preserve | Share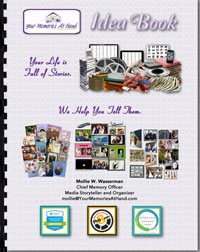 The Idea Book:
Unique, Personalized
Creations Using YOUR
Photos, Video & Film
Much more than a
catalog!
It's chock full of
inspiration for telling
YOUR story.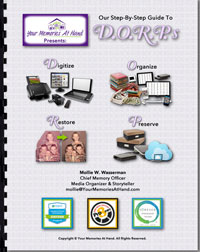 Need Help Getting
Organized?
Get all the guidance
you need to Digitize,
Organize, Restore &
Preserve YOUR
memories.
Perfect for the Do-It-
Yourselfer.