Resources to Digitize, Organize, Restore & Preserve
Resources for the ambitious DIY photo organizer.
Your Memories At Hand Resources to
Digitize | Organize | Restore | Preserve
Do you have a lifetime of print photos scattered in boxes & drawers?
Do you have hundreds (or thousands?) of digital photos that are dispersed amongst your various 
cameras, phones, tablets, flash drives, memory cards or lost somewhere on your computer?
Do you have stacks of old home movies in formats that no longer exist?
AND…
How many times have you wanted to share a memory or a moment but can't get your hands on it?
Are you concerned that your treasured memories are being lost to time and the environment?
As famed photographer Kevin Gilbert has said "A picture is worthless if you can't find it".
For more details click any of the images above.
Professional
Photo Editing &
Photoshop Services
CHECK IT OUT
Got Photos, Video, Film?
We've Got Solutions for
ALL Your Memories!
Digitize | Organize
Restore | Preserve | Share
Contact Us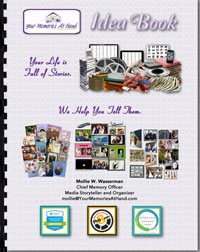 The Idea Book:
Unique, Personalized
Creations Using YOUR
Photos, Video & Film
Much more than a
catalog!
It's chock full of
inspiration for telling
YOUR story.
CHECK IT OUT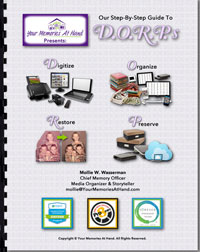 Need Help Getting
Organized?
Get all the guidance
you need to Digitize,
Organize, Restore &
Preserve YOUR
memories.
Perfect for the Do-It-
Yourselfer.
CHECK IT OUT