Resources:
SHARE
Resources for the ambitious DIY photo organizer.
D.O.R.P.S. is an acronym with an "S" at the end, which means that while we provide lots of help in getting your memories Digitized, Organized, Restored and Preserved, helping you to Share is at the heart of what we do:
Fusion Videos – Way Beyond Slideshows
What in the world is a Video Fusion Show? Isn't it just a slideshow? No way! This genre is often called a slideshow, but that term just doesn't describe what we do.
For Home, Family & Friends: Think about taking your best photos and video clips, put together with music or even narration in a fusion video that will make everyone feel like they were there.
For Small Business & Non-Profits: You're on the move. And your story is best told when it's on the move too! Using your images, video, music and/or voice over, we create shows for presentations, trade shows, or your web site that will wow your audience…at a price that the small business can afford.
Albums – Digitally Designed and Created (or Re-Created)
Your photos deserve to be shown off in beautiful albums. We offer:
Custom-designed albums for special occasions when only the best will do
Home for the Masses of family photos at a lower cost point
Digital Scrapbooks that tell your story
Books for a Crowd are great for Family Reunion photos when everyone wants a copy of the album!
Business Catalogs & Portfolios designed and priced for the small business.
PHOTO WALL ART
From Ordinary to Extraordinary
Working with a variety of the top print labs available only to professionals, we take your favorite photos and design wall art that is stunning. And whether Gallery Blocks, Metal Prints, Canvas Wraps or Clusters or Splits, you choose the medium that matches your style.
OTHER UNIQUE WAYS TO SHARE YOUR STORY:
Declutter Without Losing the Memories!
Collage Prints: If you have a lot more pics to display than wall or counter space to display them, a fantastic solution is custom designed collage prints.
Keepsake Albums & Wall Art: If you're downsizing or just out of room, you don't have to part with special keepsakes. Three dimensional collections can be preserved and enjoyed in keepsake albums and wall art.
Re-Created Heirlooms: Scrapbooks, Cookbooks, Memoirs and More
AND We Help You Record Your Stories for Future Generations!
Your memories aren't meant to be hidden in a box, lost on your hard drive, or on your phone's camera roll.
Your memories are meant to be SHARED. To get started telling your story,
Got Photos, Video, Film?
We've Got Solutions for
ALL Your Memories!
Digitize | Organize
Restore | Preserve | Share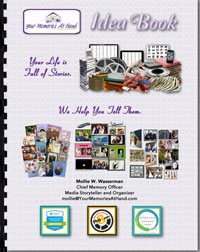 The Idea Book:
Unique, Personalized
Creations Using YOUR
Photos, Video & Film
Much more than a
catalog!
It's chock full of
inspiration for telling
YOUR story.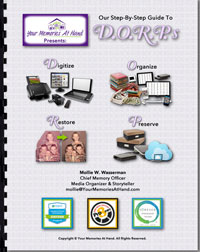 Need Help Getting
Organized?
Get all the guidance
you need to Digitize,
Organize, Restore &
Preserve YOUR
memories.
Perfect for the Do-It-
Yourselfer.