Beyond Slideshows – Memories that Move.
What in the world is a Video Fusion Show? Isn't it just a slideshow? No way!
This genre is often called a slideshow, but that term just doesn't describe what we do. Our Fusion Videos are not the run-of-the-mill slideshows that you you usually see or fall asleep to. Rather, we create an experience that is as special as the memories & lives you're celebrating.
Our Fusion Videos combine your photos and video with music and/or narration, to tell your story in the most touching way you can imagine.
A Fusion Video provides a wonderful tribute to enjoy when family and friends are gathered and also serves as a special keepsake for years to come.
A Fusion Video is the BEST way to relive any special event. Here's why:
At a wedding, graduation or other special occasion, you'll likely have a photographer but your guests will also be taking photos and video. We take the best of the photos and video clips, and combine them with your music choices to make a show far more powerful than any of the media seen by itself!
A Fusion Show also makes fantastic entertainment or a moving tribute AT the event. Some examples are:
Anniversary Parties where the show re-lives the couple's years together
At a Wedding showing the couple's courtship
At a Funeral or Memorial where the show celebrates the person's life with the photos and music that truly represents them.
Got Photos, Video, Film?
We've Got Solutions for
ALL Your Memories!
Digitize | Organize
Restore | Preserve | Share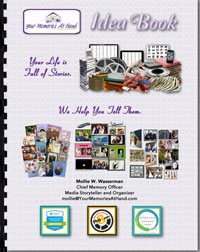 The Idea Book:
Unique, Personalized
Creations Using YOUR
Photos, Video & Film
Much more than a
catalog!
It's chock full of
inspiration for telling
YOUR story.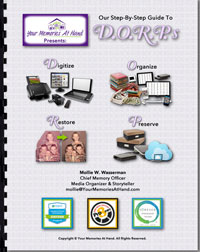 Need Help Getting
Organized?
Get all the guidance
you need to Digitize,
Organize, Restore &
Preserve YOUR
memories.
Perfect for the Do-It-
Yourselfer.