Photo Wall Art Clusters and Splits
Clusters and Splits are designer Groupings of Metal Prints, Canvas Wraps or Thin Wraps that are totally WOW!
Clusters are a related group of photos with individual images on each panel
A Split is a single image spread across multiple panels.
The Film Strip
The Formal Four
Portrait Triptych
The Flagstone
Modern
The Stair Climber
Parquet
Square Triptych: Arizona
Tic Tac Toe
Square Triptych: Spain
The Big E
Timeless
For more info on showcasing YOUR photos with custom wall art,
Got Photos, Video, Film?
We've Got Solutions for
ALL Your Memories!
Digitize | Organize
Restore | Preserve | Share
Contact Us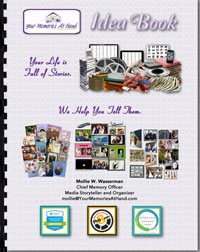 The Idea Book:
Unique, Personalized
Creations Using YOUR
Photos, Video & Film
Much more than a
catalog!
It's chock full of
inspiration for telling
YOUR story.
CHECK IT OUT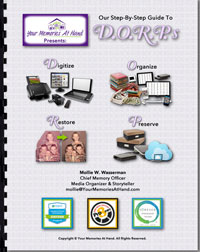 Need Help Getting
Organized?
Get all the guidance
you need to Digitize,
Organize, Restore &
Preserve YOUR
memories.
Perfect for the Do-It-
Yourselfer.
CHECK IT OUT