For a once-in-a-lifetime event, you want a 
once-in-a-lifetime album and we design just that.
As a Photo Storyteller & Organizer, I have access to the top print labs, available only to professionals. From this pool, I've scoped out the album lines that provide the very best quality per dollar spent.
And an added bonus with having us create your album is that you're not limited to just your photographer's photos. Sometimes, guests will snap an impromptu photo that just captures a moment. If so, we can include it!
To take a look, click the title or cover. Included in ALL of our album projects is an e-book that can be flipped through by others that are far away.
For more info on albums that tell your wedding story,
Got Photos, Video, Film?
We've Got Solutions for
ALL Your Memories!
Digitize | Organize
Restore | Preserve | Share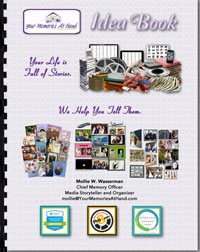 The Idea Book:
Unique, Personalized
Creations Using YOUR
Photos, Video & Film
Much more than a
catalog!
It's chock full of
inspiration for telling
YOUR story.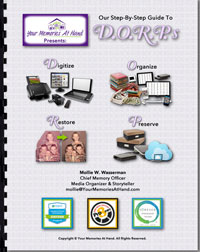 Need Help Getting
Organized?
Get all the guidance
you need to Digitize,
Organize, Restore &
Preserve YOUR
memories.
Perfect for the Do-It-
Yourselfer.